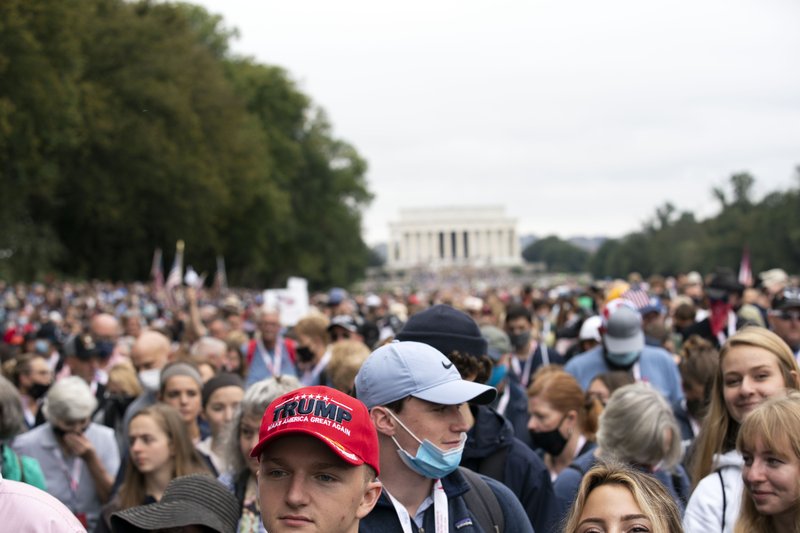 WASHINGTON (AP) — Franklin Graham organized the Prayer March at the National Mall in Washington, Saturday, Sept. 26, 2020. Organizers say up to 50,000 people packed downtown Washington on Saturday to pray and show their support for President Donald Trump, making it one of the largest gatherings in the nation since the coronavirus pandemic struck and, and bans on large gatherings were implemented.
The march, which stretched from the Lincoln Memorial to the U.S. Capitol, was held just hours before Trump was set to announce he was nominating a conservative judge for the Supreme Court.
Few in the crowd wore masks. Some sported red caps with the words "Let's Make America Godly Again," a play on Trump's signature MAGA caps.
Vice President Mike Pence, speaking from the steps of the memorial, said he came to extend Trump's "greetings and gratitude" and asked them to pray for the new Supreme Court nominee.
The march was organized by the Rev. Franklin Graham, a prominent conservative evangelical and Trump supporter.
Vice President Mike Pence was among the speakers who addressed the crowd from the steps of the Lincoln Memorial.
Pence urged the crowd to pray for the military personnel, the executive branch, Congress and 'the remarkable woman that the president will nominate to fill the seat on the Supreme Court today.'
'Today, at this Washington prayer march, you continue a great tradition,' Pence said. 'Since the founding of our nation, the American people and our leaders have gone to prayer in challenging times.'
After the rally, demonstrators walked to eight sites around the National Mall, praying specifically for police officers, government leaders, ending abortion and more.